Grain free flatbread with a nut free option!
What a great way to use up all the delicious zucchini that my garden produced during the summer months. You can store these little flat bread pieces in the freezer.
Use them for sandwich wraps or soft taco shells (just omit the basil and add in 1/2 tsp cumin)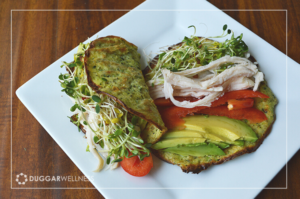 or use them for an individual pizza crust or use the entire recipe to make one family-sized pizza. The photo below is our favorite pizza combo: Roasted chicken, suateed zucchini, fresh tomatoes and dairy-free alfredo sauce.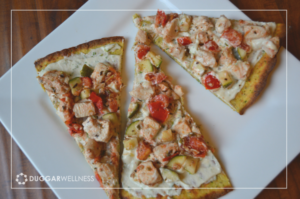 Print
Zucchini Flatbread
2 Cup Zucchini, Shredded
1/4 Teaspoon Sea Salt
1 Teaspoon Basil, Optional
Fresh Ground Pepper
1 clove Garlic
1/2 Cup Almond Flour (for nut/seed free use 1/2 cup cassava flour)
2 Tablespoon Arrowroot Powder
2 Eggs
Instructions
Preheat oven to 450 degrees.
Shred zucchini with a food processor or a box grater.
In a medium sauce pan add 1 inch of water and bring to a boil. Place shredded zucchini in a steamer basket in the pan of boiling water and cover. Allow to steam for 2-3 minutes.
Remove steamer basket from pan and allow to drain for several minutes. To remove any excess water press down on the shredded zucchini to squeeze out the water and let it drain through the steamer basket.
Add steamed and drained zucchini to a food processor or a high powered blender along with the sea salt, basil, pepper, garlic, almond flour and arrowroot flour.
Blend until well mixed. Add in the eggs and pulse to mix into the batter.
To make individual flat bread line a baking sheet with parchment paper. Place 1/4 cup of batter on the parchment paper and spread into a 4″ circle, about 6 on the sheet.
If making a pizza crust, place parchment paper on a pizza stone and spread entire batch of batter onto the stone.
Bake for 15 minutes and remove from oven. Using a spatula flip the flat bread over, like a pancake.
If making a pizza crust, get another sheet of parchment paper and place on to of the crust. Carefully turn crust over and remove top sheet of parchment paper.
Return to over and allow to bake for 7-10 more minutes.
Remove from oven, allow to cool for a couple minutes and then transfer to a cooling rack to cool completely.