For the next three months we will be in what I call "Sugar Season." Starting with Halloween, maybe sooner if you have some pre-Halloween parties. Then we move into November when we show our gratitude by eating too much food and having one of each dessert on Thanksgiving day. For the grand finally we kick off the Christmas season with treats to share with the neighbors, parties for school and work, friends and family and don't forget the New Years Eve celebration to stuff ourselves with "This-is-the-last-time-this-year" treats before we make a resolution to swear off sugar.
Every year I get a little anxious as we move into "Sugar Season." Anxious because I want to help people understand that you don't need sugar to make special memories. (Sugar will actually weaken your immune system and then you might be sick instead of making happy memories.) But, mostly anxious for the reminders I give my children about staying healthy by eating well, and then letting them make their own choices. After all, my husband and I have taught them well, they know what we believe and they know that mom won't (again this year) be buying candy to pass out to the neighbors for Halloween.
Read about how we handle the mother-load of candy that comes to our house after a night of Trick-or-Treating here.
So what can you do to start the "Sugar Season" off right? How about offering something different for the little goblins, superheroes and princesses that ring your doorbell this Halloween. Here are a few of my favorite ideas.
Decorate clementines to look like tiny jack-o-lanterns. Just pull out a sharpie and get creative. This makes a great Halloween craft too!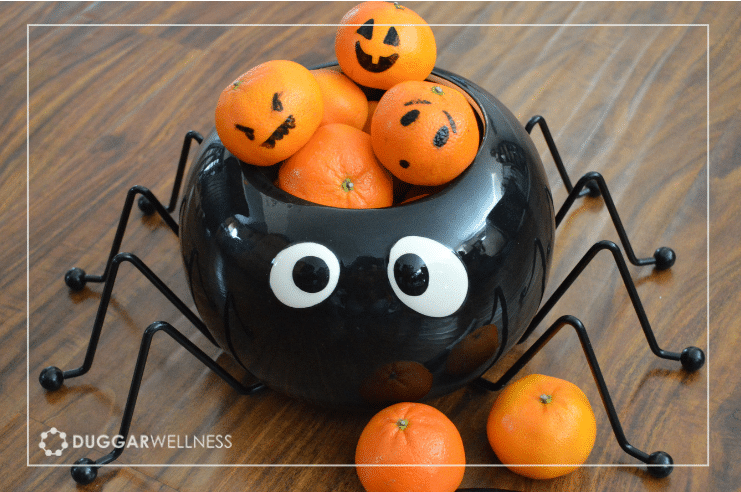 Give out all-natural fruit leather strips. Our favorite brand is from Stretch Island Fruit Co. My kids say we are not one of the "cool" houses when I pick this option.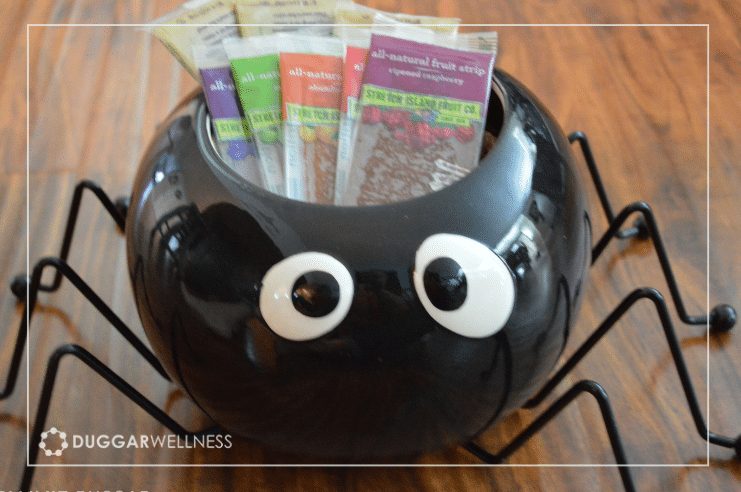 Bulk party favors get the "Cool" house seal of approval from my kiddos. Our favorites are glow stick bracelets, eyeball bouncy balls, curly straws, vampire teeth and balloon punch balls.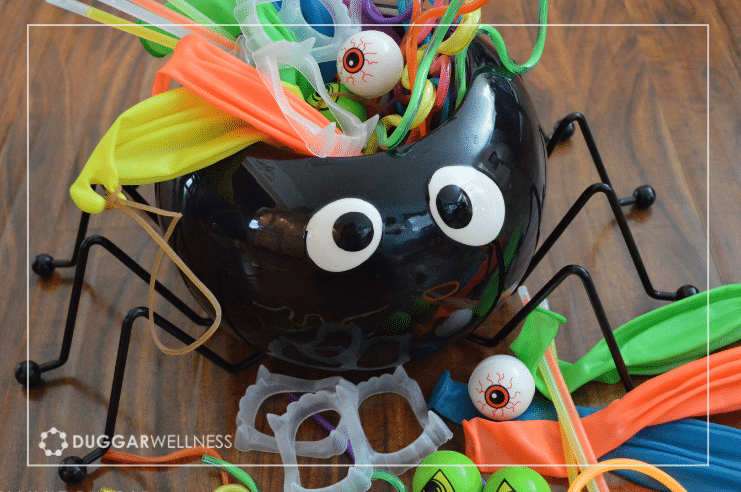 Party favors can be found at your local party store or online at Oriental Trading or Zurchers. This is my favorite option because it fits all the ideals of the Teal Pumpkin Project.
What are some of your favorite Healthy Halloween Treat ideas?