Salads in a jar have become a really popular trend, just check out Pinterest and you'll find a plethora of beautiful salad jar pictures. Explore the food blog world and you'll find them there and search Youtube and you'll be able to watch a large selection of salad jar tutorials.
I'm a big fan of food prep, but the salad in a jar trend left me with questions about ease of preparations, freshness, and even how to eat it.
I decided to test this trend and these are the three tips I'd like to share with you.
Tip 1: Preparation
Preparing Salads in a jar takes time, and the first time you do it you may think, "This is not saving me any time at all." Think of it as a reallocation of your time. You'll spend an hour making lunches for the whole week instead of that valuable time in time in the morning, when it may be harder to decide what to include in your lunch for the day.
Start with a clean, dry wide-mouth mason jar. Making sure the jar is completely dry will keep your ingredients from getting soggy. You'll also need to add ingredients to the jar in a specific order to avoid getting a soggy salad.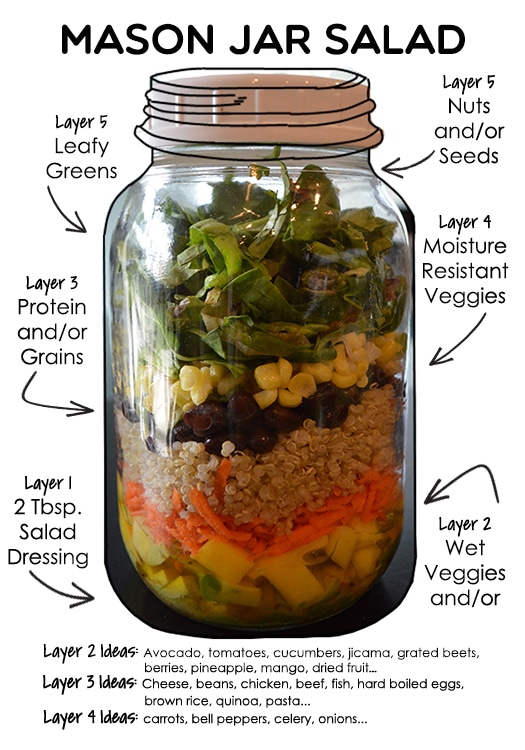 Tip 2: Assembly
After all the pictures I looked at, the tutorials I watch and through my own trial and error, I've learned that there absolutely is a right way to construct your salad to keep it fresh and crispy until you're ready to eat.
Some examples that I saw didn't take into consideration that if you have dressing and wet fruit or veggies touching the lettuce greens you'll end up with a soggy, slimy, unappetizing mess. The following is the recipe for keeping all your salad ingredients separated and fresh until you're ready to mix it together and eat it.
Layer #1: Add 2 Tablespoons salad dressing
Layer #2: Add wet veggies or fruits. (Think of things that would be good marinated in the dressing.
Avocado (it will stay green if it is in the dressing), tomatoes, cucumbers, jicama, grated beets, apples, berries, pineapple, mango, dried fruit…
Layer #3: This is where you put in some protein or whole grains. (It would be ok if these came in contact with the dressing).
Cheese, beans, chicken, beef, fish, hard boiled eggs, brown rice, quinoa…
Layer #4: Moisture resistant veggies. (These are the barrier between the dressing and the leafy greens, it keeps the green crispy).
Carrots, bell peppers, celery or onions…
Layer #5: Add in your greens
Layer #6: Top with chopped nuts and/or seeds.
Tip 3: Eating Your Salad
I found that the jar serves as the storage and transportation method for your salad. Trying to shake the jar to mix the ingredients and toss in the dressing doesn't work very well at all and instead of eating a variety of ingredients with each bite, you end up eating the salad in layers.
I found the best thing to do when you are ready to eat it, is to dump it onto a plate or into a bowl and enjoy! This would mean that if you are packing these salads for lunch you'll also need a container to eat from. You could keep a bowl and fork at your office if you are able to wash and store it there.
3 Mason Jar Salad Recipes
Power Salad
Layer 1: 2 Tbsp. Basic Dressing (see recipe below)
Layer 2: ¼ cup Cucumber, ¼ cup celery, ¼ cup jicama
Layers 3: 2 oz. smoked salmon or roasted chicken, optional
Layers 4-6: Kale, arugula, red leaf lettuce, spinach, sprouts, 2 Tbsp. chopped walnuts.
Basic Dressing:
Ingredients:
Zest and juice of 1 lemon
3 Tbsp. olive oil
1 tsp. sea salt
1/4 tsp. fresh ground black pepper
Directions:
Place all ingredients in a small bowl and whisk until smooth.
Mexi-Mango Salad
Layer 1: Whisk together the following ingredients for the dressing in the bottom of the jar.
1½ Tbsp. olive oil
1½ tsp. fresh lime juice
pinch of cayenne
1/8 tsp. oregano
1/8 tsp. sea salt
1/8 tsp. cumin
1/8 tsp. garlic powder
Layer 2: ½ of an avocado, diced, ¼ cup diced mango, ¼ cup grated carrots
Layer 3: ½ cup cooked quinoa, ¼ cup black beans, ¼ cup frozen corn
Layer 4-6: 2 Tbsp. minced green onions, up to 1 Tbsp. minced jalapeño pepper, 2 Tbsp. chopped cilantro, a handful of spinach
Club Salad
Layer 1: 2 Tbsp. Sweet Lemon Dressing
Layer 2: ½ an avocado diced, ¼ cup diced cucumber, ¼ cup diced tomatoes
Layer 3: ¼ cup diced chicken, 1 hardboiled egg, diced
Layer 4: 1 thinly sliced carrot
Layer 5-6: green leaf lettuce and spinach to fill the jar topped with 1 Tbsp. raw sunflower seeds
Salads will last up to 1 week in the fridge, so make a weeks' worth at a time and then just grab your lunch every morning.