Many parents know that packing home lunches are healthier than anything the school can provide. The struggle comes when trying to balance nutritious choices with food that your child will actually eat.
Maybe you are stuck in a rut when it comes to packing home lunches, and your kids may be begging you for something other than a sandwich and chips. Maybe you're looking to save money on school lunches or for your kids to eat healthier. Whatever the case may be, these tips are for you!
Tip #1 Let the Kids Help
Letting kids help saves you both time and money. This can actually get them excited to eat the food they've prepared. It gives them a sense of pride, gives them freedom and allows them to feel responsibility.
This can translate into more kitchen experience as well. Kids naturally love to create and explore and the kitchen is the perfect place to do that. Sometimes this can seem like it slows the whole process down, but trust me on this. Eventually, they will be making their own lunches without your help, and that will save you tons of time!
Place lunch items in the pantry and refrigerator so they can easily see what is available and pack their lunches. Label the crisper drawers or keep items for packing in their lunches in the lower shelves so they can reach them. Keep their lunch boxes and containers in places that are easily accessible.
Tip #2 Think Reusable
Having reusable containers will save money and reduce waste. Reusable containers also create more responsibility for your kids, teach them how to properly wash and put away their containers so they will be ready for them when they are preparing their next lunch. The following are some of our favorite lunch container options.
Lunch Boxes:
There are so many styles of lunch boxes so do some research and find one that fits your needs. Some features to look for is insulation, this is important to help keep your food cold. Another feature is size, make sure it is big enough to hold enough food. My son generally goes straight from high school to work so we usually pack him a lunch and a snack so that he can make it through work until he comes home for a late dinner.
Here are a couple of lunch boxes that we have used for several years. Arctic Zone Expandable Lunch box is perfect for holding lots of food and keeping it cold all day. My daughter has a Packit Freezable lunch tote, you actually put the whole thing in the freezer and the gel inside the insulation freezes. with this tote, we don't have to worry about having extra ice packs. We also love the PlanetBox lunch boxes.
Food Containers:
Have a variety of sizes for main dishes, sides, and condiments. These can be plastic, stainless steel, glass, and or silicone.
PlanetBox containers are stainless steel, leak-proof and dishwasher safe bento-style lunch box. They also sell containers with lids for dips, yogurt, salsa, etc.
A Thermos is perfect for keeping hot foods hot or cold foods really cold. We pack tamales, soup, fried rice, oatmeal, bean dip, etc. in the thermos to keep warm until lunch or you can pack, yogurt, apple sauce, fresh cut fruit, etc. to stay extra cold.
Bento Style meal prep containers work well too. These are great for those cuties that don't like their food to touch!
Rubbermaid makes a lot of reusable containers that come in different sizes. Their Lunchblox series comes with a reusable ice block as well.
Sistema mini condiment containers are great for dips or salad dressings and seasonings, salad dressings, etc. My kids love packing rice for lunch and that means they need a bottle to hold Liquid Aminos.
Eating utensils:
Don't forget the reusable utensils. We use this one that is an all in one with a fork, spoon, and knife.
Create a rotating meal plan:
This can be something the whole family follows or each kid can create their own plan to follow. Reuse this plan to make shopping and packing easier. Start by creating 10 meal plans, that way they don't get the same thing each week and the variety keeps them interested and excited about creating and eating their lunch every day. (see a sample plan below)
Tip #3 Follow the 1 2 3 Plan
It's important that growing kids eat a balanced diet that includes all the macronutrients (protein, fats, and carbohydrates) You can still get this with finger-food type lunches as long as you are following the 1-2-3 Plan.
The 1 2 3 Plan helps you create a balanced meal that includes protein, healthy fats and carbohydrates. Protein foods can also contain healthy fats like nuts, seeds, eggs, meat or fish. All fruit and some veggies are carbohydrates. (you don't need to have grains to get in your carbs) Healthy fat can be found in foods like avocados, nuts, seeds, olives, home-made dips, and dressings.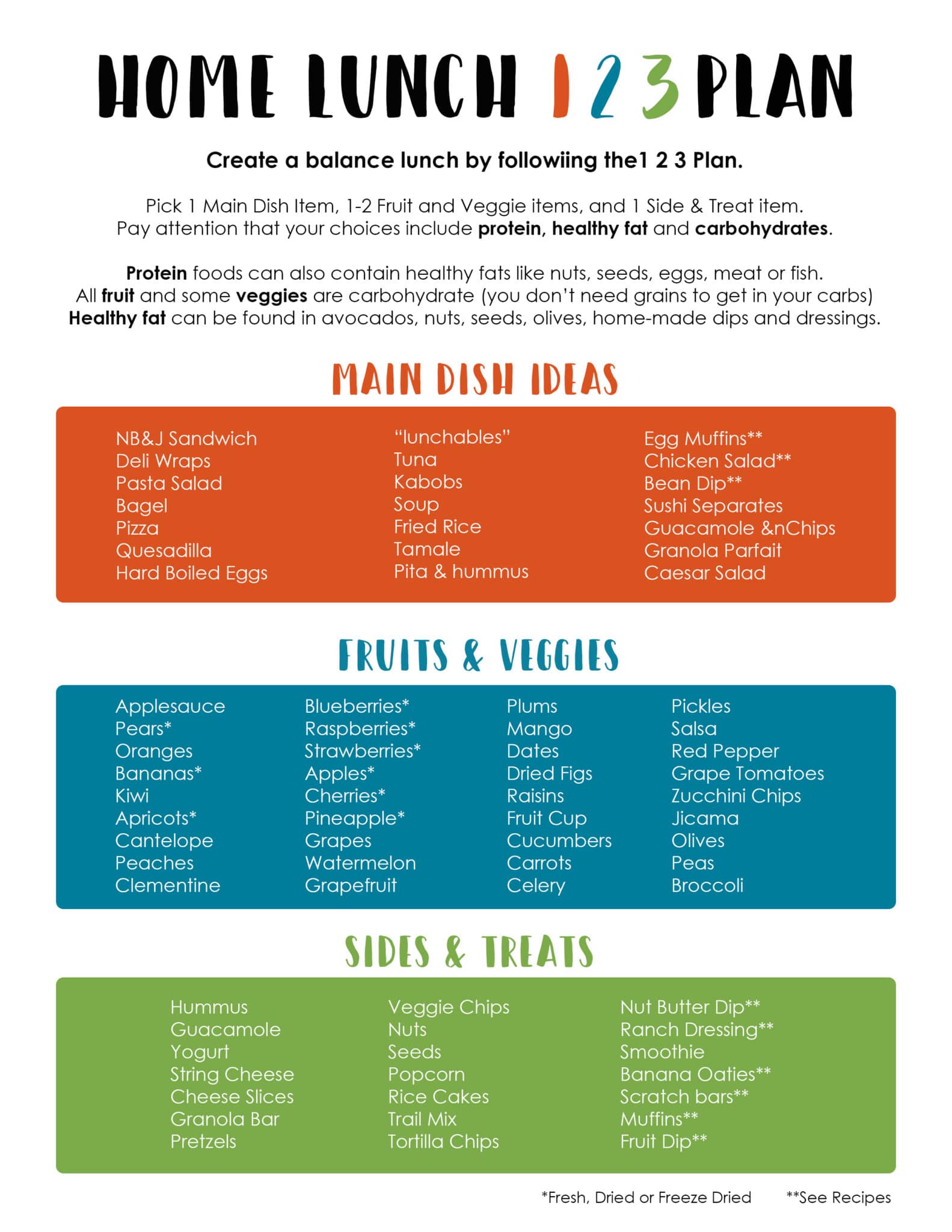 Here are some of our favorite lunch Combinations (see photos)
These are examples of some super simple lunches, you can get more involved by making muffins, snack bars, dips, or salads with the recipes that are linked below.
Step #1: Pick 1 Main Dish Item
Pictured above: Turkey & Cheese Wrap
Pictured Below: Turkey & Cheese Wrap
Step #2: Choose 1-2 Fruit and Veggie items
Pictured above: Cucumbers
Pictured Below: Mini Bell Peppers
Step #3: Add in 1 Side or Treat item
Pictured above: Oranges
Pictured Below: Blueberries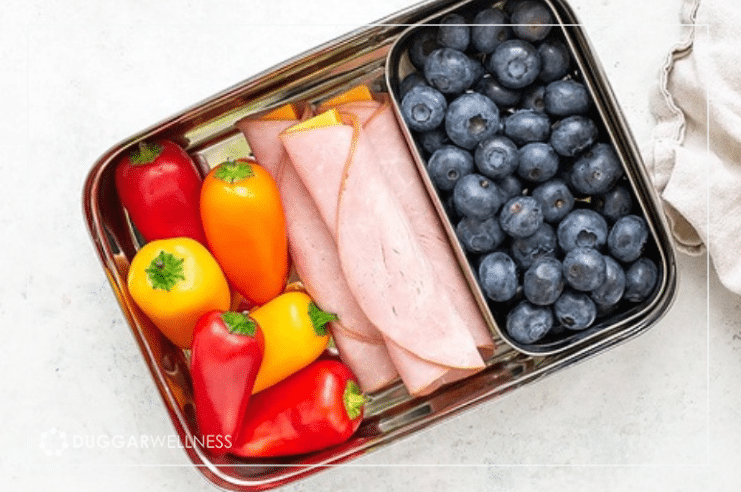 Favorite Lunch Friendly Recipes:
Tip #4 Proper Prep is Key
Prepping as much as you can over the weekend will save time and stress during the morning rush. Assign your kids to help stock supplies. Spend time together washing, cutting and portioning out fruits and veggies. Prepare recipes on the weekend that will last through the week. (Bars, muffins, dip, dressing, hard-boiled eggs, smoothie pops, etc.)
Weekly Preparations:
Make a menu and then do all the shopping for the week, just like you'd do with any other meal you're preparing. You can spend time on the weekend preparing food for the week to come. Get the kids involved in this too. Get the veggies chopped and store them in a large container or in individual containers in the fridge. You can make any dips, dressings, or baked goods ahead of time too.
We find that making and posting a menu plan works for us. That way everyone knows what to expect each day and prepping lunch goes a lot faster. Sit down together and come up with 10 favorite lunch ideas and then you'll be set for 2 weeks. The kids won't get bored with the same old lunch every day. Use the 123 Plan above to help get some ideas flowing.
Here is a sample plan for some of our favorite lunches.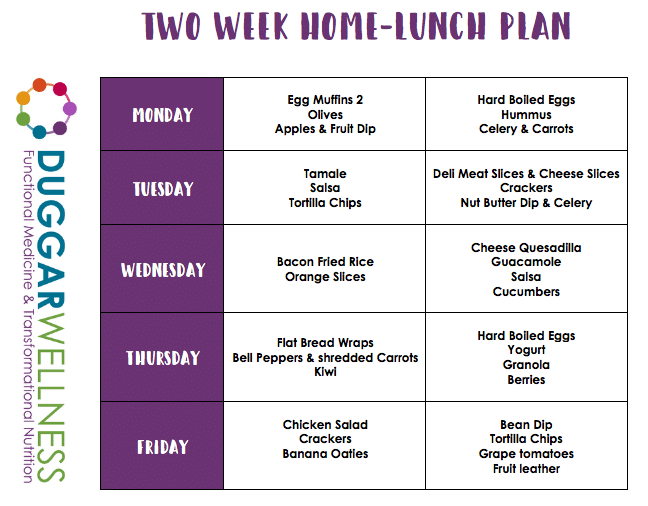 Daily Preparations:
Help the kids learn that cleaning out their lunch box every day after school is part of their evening routine. You can decide if packing lunches is better for your family to do at night following dinner or in the morning before school. Get the kids involved as much as possible, this will relieve the pressure of having so much to do to get them all ready for school, especially if you're also getting ready for work.
Warm Lunch Tips:
The best way to have warm lunch options is to invest in a leak-proof insulated (thermos) container. Preheat the thermos by adding boiling water, cover with the lid, and allow to sit for 15 minutes. Heat-up the food that will be put into the thermos. Dump out the water, add the heated food and put on the lid. This is a great way to use left-overs.
Cold Lunch Tips:
A thermos can also keep food cold. Plan ahead by putting the thermos in the freezer overnight. In the morning remove from freezer and add cold food. If you forgot to place thermos in the freezer you can also add ice water and let it sit for 15 minutes, dump out the water then add the cold food.
Keeping food cold:
Invest in some good re-freezable ice packs. We have found that soft gel ice packs seem to stay colder longer and are less bulky in the lunch box. Here are a few of our favorites.
Cooler Shock gel packs, Stay Cool slim ice packs, or ice blocks that fit with the Rubbermaid Lunchblox containers.
Tip #5 Sprinkle In Some Love
Who doesn't love getting a "love note?" or at least a funny joke? Let your kids know you're thinking about them with jokes, brainteasers, kindness quotes, or personal notes of encouragement. Keep a stack of these notes handy and sneak them into their lunch box before they head out the door. There are so many resources for these cute and free note ideas online, search on Pinterest. 🙂 Remember it's always fun to get a handwritten note too!